Product features and benefits
maintenance free
easy handling
process documentation
improved quality
robust, durable sensor
Optimization in production
Inline Viscosity Sensor VA-300
The ViscoScope® sensors are made of high-quality, first-class stainless steel and impress with their intelligent, robust design. All parts in contact with the process are completely welded. Moving parts do not wear out and there are no leaks that damage the inside of the sensor housing. Each ViscoScope® viscometer has a Pt100 integrated into the sensor. The ViscoScope VA-300 sensors allow a wide range of variants and are therefore manufactured to order. This ensures optimal installation in new and existing plants. Further special features are the CIP / SIP capability, surface Ra <0.2 µm, dead space free installation or intrinsically safe installation.
Images and technical drawings
Sensor ViscoScope VA-300 Variants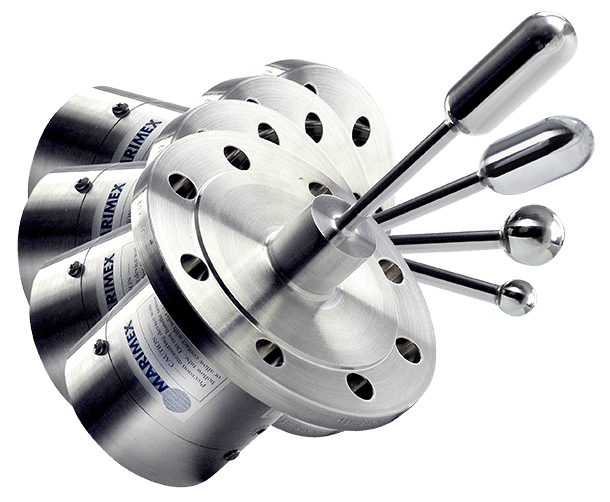 Marimex ViscoScope VA-300 Measuring tip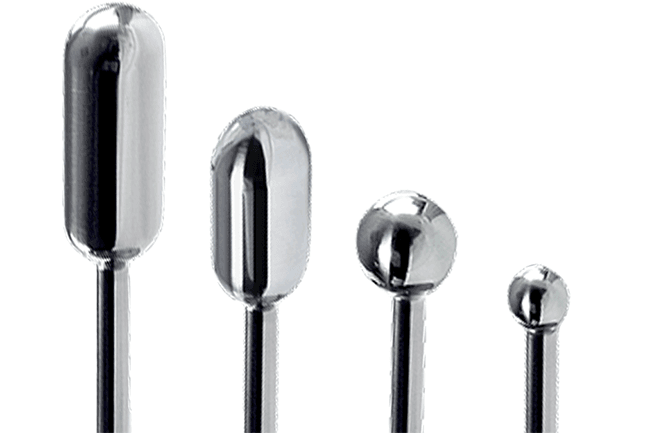 Installation positions
Install.-position:

position-independent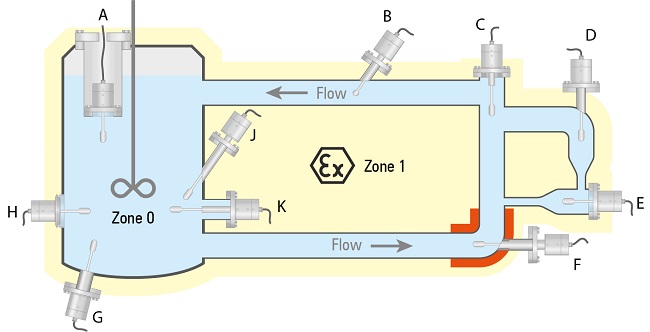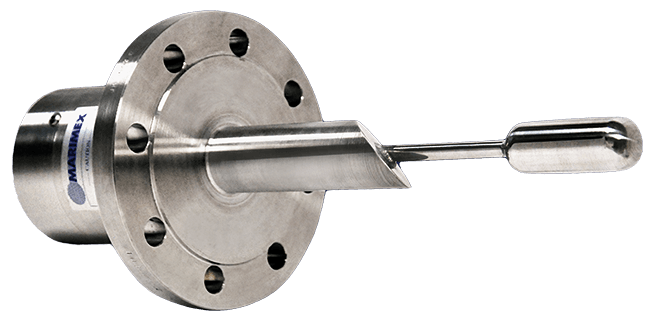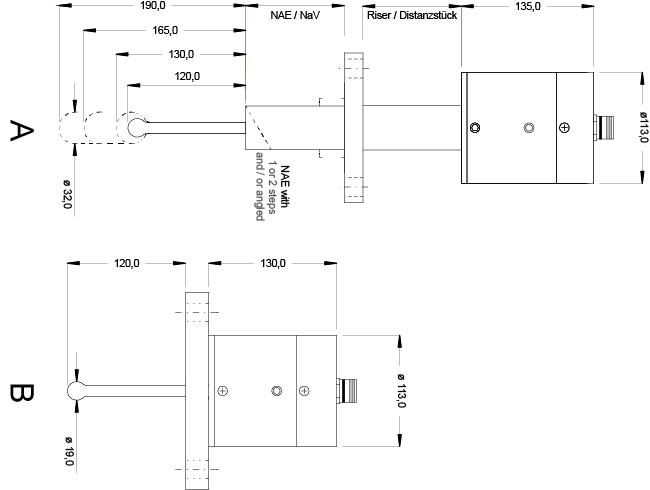 Technical data
Sensor Type

large cylinder (VA-300L) | small cylinder (VA-300M) | sphere (VA-300H) | mini sphere (VA-300X)
measurement range (in mPa·s x g/cm³)

0.1 - 2.500 (VA-300L) | 1 - 25.000 (VA-300M) | 10 - 250.000 (VA-300H) | 100 - 2.500.000 (VA-300X)
Dimension Sensor

Ø 32 x 190 mm (VA-300L) | Ø 32 x 165 mm (VA-300M) | Ø 32 x 130 mm (VA-300H) | Ø 19 x 115 mm (VA-300X)
Material

1.4571 / 1.4404 (316Ti / 316L) (optionally Hastelloy C22, Duplex 2205, Teflon coating, others on request)
protection class

IP65
Process Temperature

from -40°C ... +450°C
Process pressure

Vacuum up to 450 bar
process connection

DIN Flange | ANSI Flange | NPT | Varivent® | Tri-Clamp
Installation Position

Vessel, tank, pipeline, flow cell, position-independent
cabel length sensor - transmitter

Max. 1.000 Meter
Flow Viscosity

up to 10m/sec, depending on installation
Reproducibility

± 0.3% or ± 1 Digit (VA-300L | VA-300M) ± 0.5% or ± 1 digit (VA-300H | VA-300X)
Accuracy from display value

± 2% or ± 1 digit
Ex Certificate

(optional) II 1/2G Ex ia IIC T6...T3 Ga/Gb
Fields of Application
Coatings
Paints and varnishes
Fine chemistry
Adhesives and sealants
Synthetic resins
Paper coatings
Polymers (PET, PE, PC, PA6, PIB, PS, PMMA and others))
Polymer melts (fibres, granulates)
Silicones
Suspensions, dispersions, emulsions
Black liquor
Cement
Product Description VA-300 Inline Viscometer
The ViscoScope inline sensor VA-300 requires no maintenance and is designed for accurate, reproducible and reliable measurement of the dynamic viscosity of liquids in real-time. A Pt100 integrated into the probe simultaneously measures the process temperature.
The probe of the ViscoScope® sensor is fully welded to ensure that no moving parts come into contact with the fluid being measured. Electric coils drive the probe at its resonance frequency and stimulate it to an oscillating torsion at a small amplitude. A fast closed-loop PID controller keeps the amplitude constant. Thus the higher the viscosity, the higher the voltage required. This can be used to measure the dynamic viscosity in mPa·s x g/cm3 (η x ρ). The low amplitude at the resonance frequency prevents material fatigue, which could otherwise cause components to move or wear. It also ideal for ensuring that the instrument has a long, reliable and maintenance-free service life.

The ViscoScope® VA-300 sensor is manufactured to order and therefore available in a wide range of versions that optimize installation in new or existing plants. This variety of sensor designs often allows them to be installed with little or no modification to the potential installation site. The sensor can be installed in any position but it should be selected carefully in order to ensure cost-efficient measurements.

The ViscoScope® VA-300 sensor is a versatile instrument for many industrial applications:
vacuum or high pressure
very low or high temperatures
in secure areas or areas with potentially explosive atmospheres
CIP / SIP compliant or with no dead spaces
In continuous processes, viscosity is monitored permanently. This permits timely adjustment of the system or optimum dosing. Batch applications are often reactive processes, in which the viscosity curve and achieving a specified target viscosity define the optimum point for stopping the process.
However, the degree of homogenization, concentration, molecular weight distribution, coating thickness, lubrication performance and phase separation can also be inferred from the measurement signal – the potential uses are simply limitless. Marimex® has already implemented apparently impossible applications and successfully put them into operation. Most liquids are non-Newtonian so relative viscosity is the relevant measurement in processes. The ViscoScope® system is factory- calibrated using certified Newtonian calibration oils. This multipoint calibration allows the user to obtain reproducible results, e.g. when several systems are used in the same applications, after repair or relocation to a different plant. In order to compare the process viscosity with a known laboratory viscosity, it is necessary to calculate a correlation empirically.
Product Video